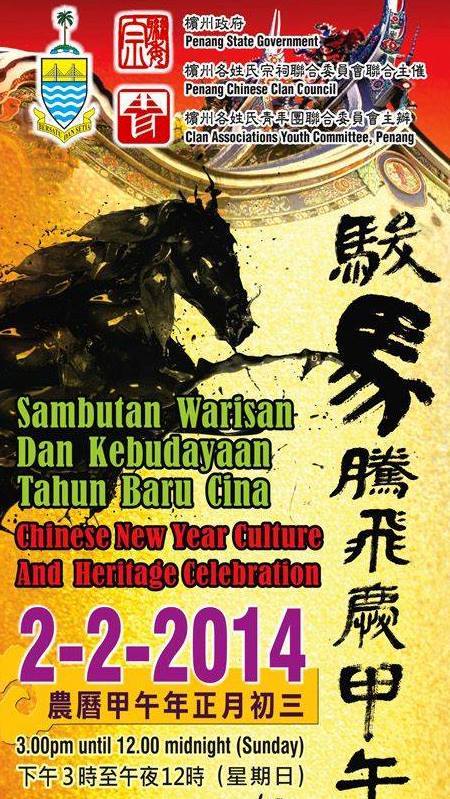 Written by Administrator II
Thursday, 23 January 2014
Date: 2 February 2014
Time: 3pm – 12am
Venue: Beach Street, Bishop Street, Penang Street, Church Street and King Street
Usher in the year of the Horse with Chinese cultural activities and performances around the heritage areas of George Town. This celebration is organized in conjunction with the Lunar New Year by the Clan-Association Youth Committee of Penang and aims to promote the Chinese community's intangible heritage and long history in Penang.
The highlights include Dragon Dance and Lion Dance on Stilts, 12 Chinese Zodiac fancy lantern exhibition, Chinese Classical Songs and New Year songs performances, traditional Malay Kompang and Gamelan performances, traditional dances, Chinese orchestra and traditional music, grand fireworks display, and martial arts performances such as Wushu, Tai Chi, Wing Chun Kungfu and Shao Lin Kungfu.
The celebration will he held on Beach Street, Bishop Street, Penang Street, Church Street and King Street which will be closed to traffic from 6pm on 1 February till 12 midnight on 2 February 2014.