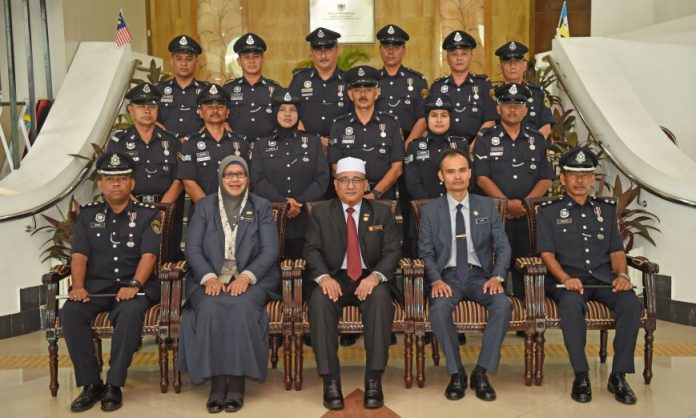 THE Seberang Perai City Council (MBSP) is expected to recruit another 300 new members for its auxiliary police team in stages this year.
MBSP mayor Datuk Rozali Mohamud said currently the council has only 30 auxiliary police personnel.
"This number is certainly not enough and thus, I will make an official application to the Inspector-General of Police Tan Sri Abdul Hamid Bador regarding the council's intention.
"Hopefully, we will get an approval soon. The intake of new recruits is really important in our efforts to take care of the RM1.3 billion MBSP assets from any intrusion, damage and vandalism.
"At the same time, we are also in the process of expanding the responsibilities of the MBSP auxiliary police team.
"One of them is on manning the traffic in Seberang Perai and also patrolling the residential areas that are not covered by the PDRM police team.
"This will surely give Seberang Perai residents a heightened sense of security and peace of mind," Rozali told a press conference after chairing the council's first corporate assembly this year at the MBSP building in Bandar Perda, Bukit Mertajam today.
Rozali also announced that MBSP would set up a special Facebook account probably in April that would focus on giving an update on the traffic reports in Seberang Perai.
"We will provide a training session first to our staff and if everything goes with the plan, we expect to start the initiative next month," he added.
On a separate note, Rozali announced that MBSP would add another 309 'Wira Oren' this year.
"MBSP also will increase the number of vehicles for cleaning work to 97 with the cost of RM30 million.
"Hopefully, this will help to maintain and further improve the cleanliness in Seberang Perai," he said.
'Wira Oren' is a respected term for MBSP rubbish collectors who usually don orange T-shirts in the course of their work.
Source: Buletin Mutiara (https://www.buletinmutiara.com/mbsp-auxiliary-police-unit-to-be-expanded-says-mayor//)