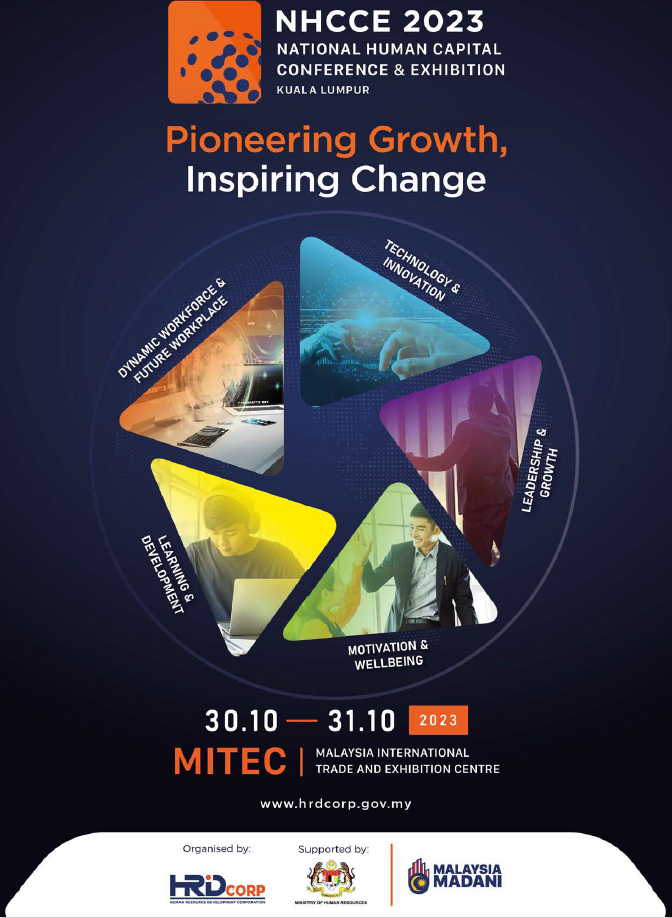 Greetings from HRD Corp,
Catch international speakers, regional leaders and local heroes this 30 – 31 October 2023 at Southeast Asia's premier event in human capital development! Join us as we learn how to pioneer growth and inspire change in this fast-evolving landscape! This year, NHCCE 2023 will take a holistic approach to human capital and business development through a brand-new theme complemented by fresh discussion pillars and excitin topics. These will be examined through the macro Southeast Asian socio-economic perspective as well as a micro standpoint on its relevance and application.
The theme, 'Pioneering Growth, Inspiring Change' is a universal call to action for all HR practitioners C-Suite and industry leaders to transform their current approaches to human capital development to capitalise on the limitless opportunities available within the future of work.
This will be discussed in greater detail by more than 30 local and international speakers and subject matter experts across five (5) discussion pillars, Technology & Innovation, Leadership & Growth, Motivation & Wellbeing, Learning & Development, and Dynamic Workforce & Future Workplace.
All our registered employers are also eligible to claim the trainee allowances (which include your accommodation, food & land transportation expenses) for:
       (i) RM150/day/pax   (less than 100km)                    OR
       (i) RM400/day/pax (more than 100km) & flight ticket cost (if any)
https://form.evenesis.com/NHCCE2023/LevyPayment/suraindran
For any inquiries, please do not hesitate to contact us.
We look forward to seeing you at the NHCCE 2023!!
Thank you.