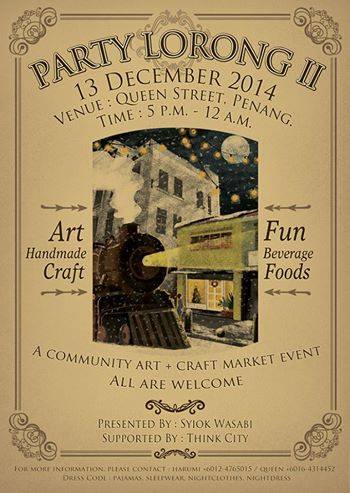 Written by Administrator II
Saturday, 06 December 2014
Date: 13 December 2014
Time: 5pm-12.00am
Venue: Chai Diam Ma, Queen Street
Party Lorong is back ! Come over to Queen Street this coming 13 December in your pajamas, nightwear or sleepwear for a special Pajama Party!
The aim of Party Lorong is to promote local and non local handmade crafts, paintings and other forms of art.
The event also supports and encourages the re-branding of endangered traditional crafts. So far, the event has established a strong network of local artists.
There will be stalls selling jewellery, children's toys, clothes, vintage clothing, prints, books, cards, gifts ,original artworks and many more.
For more information please call 012-4765015.