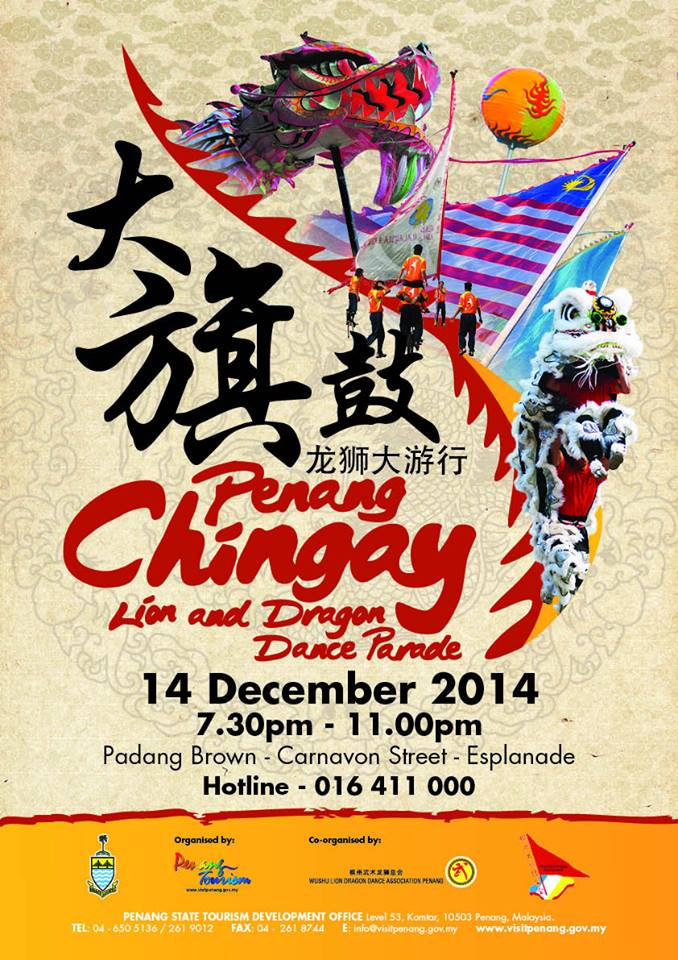 Written by Administrator II
Saturday, 06 December 2014
Date: 14 December 2014
Time: 7.30pm – 11.00pm
Venue: Padang Brown to Esplanade
Don't miss the colourful Chingay, Lion & Dragon Dance parade, part of Penang's beloved art and culture, along the streets of George Town and let the troupe members impress you with their unique balancing skills and agility. The parade is co-organized by Penang Wushu, Lion, Dragon Dance Association.
The parade starts from Padang Brown at 6.30pm and will pass through Datuk Keramat Road, Carnavron Road, Jalan Masjid Kapitan Keling and Light Street before ending with a spectacular and elaborate show at Esplanade (Padang Kota Lama).
This year there are a total of 30 Chingay, Lion Dance and Dragon Dance teams , including a float will perform in the parade, along with two marching bands.
All members of the public are welcome to witness this unique annual parade. For more information, contact 04-6505136 or 016-4110000.