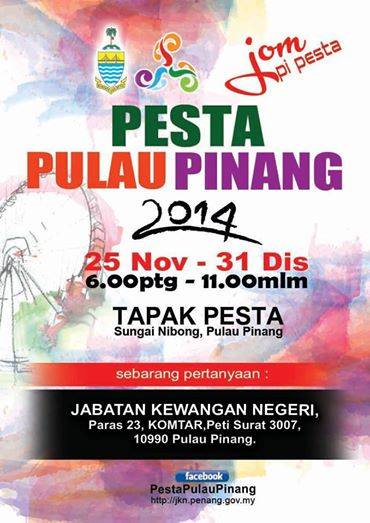 Written by Administrator II
Saturday, 06 December 2014
Date: 25 November 2014 – 31 December 2014
Time: 6.00pm-11.00pm
Venue: Tapak Pesta, Sungai Nibong
The much anticipated Pesta Pulau Pinang is back! This year it will be held from the 25 November to 31 November 2014, from 6.00pm to 11.30pm every day.
Highlights of the month-long Pesta Pulau Pinang includes Boxing , Muay Thai, interesting exhibition of antique keris, International Cat Show and various stalls selling local products.
The popular Euro Fun Park will also make a comeback his year with the usual rides such as Vortex, Sky Rider and the Top Gun. There will also be over 300 vendors selling popular Penang cuisines and snacks, including souvenirs from Malaysia and other parts of the world. Bring your family and friends over to the Pesta Pulau Pinang for a fun and enjoyable time together!
For more information including full schedule please contact 012-5384726 or 04-262 3505.