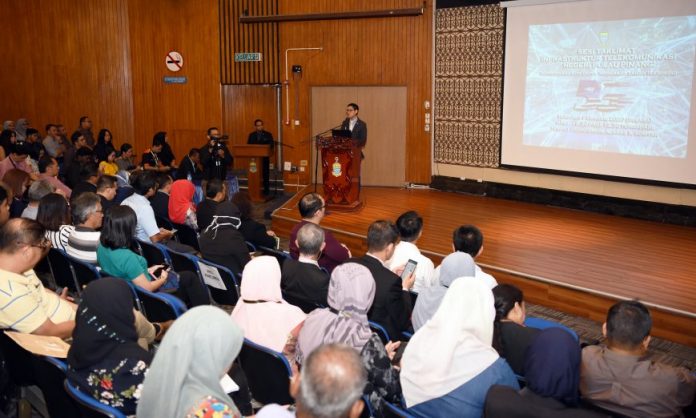 PENANG is taking another step forward towards the delivery of 5G services with the launch of 19 demonstration projects worth a total of RM23.2 million in collaboration with seven telecommunications companies today.
State Works, Utilities and Flood Mitigation Committee chairman Zairil Khir Johari said the telcos are jointly funding the projects related to three verticals (areas), namely manufacturing, tourism and smart city.
"The state does not have to cough up any money. The telco companies have to invest in upgrading the infrastructure," Zairil told reporters after officiating a briefing session on 5G demonstration projects for 250 attendees in Komtar today.
"These projects are use cases for the telcos to show they are commercially viable. 5G is a new technology. It has huge potential.
"When we roll out the 5G in the third quarter of this year, Penang will award the 5G spectrum to the telcos which would surely want a return for their investments."
The seven telco companies are Celcom Axiata, U Mobile, Digi Telecommunications, YTL Communications, Maxis Broadband, Telekom Malaysia and edotco Malaysia.
They have a strategic partner or partners to work alongside, such as Celcom with Penang Island City Council (MBPP) and Malaysian Airport Holding, U Mobile with Hotayi Electronic, DiGi with Penang Hill Corporation, YTL with Clarion and Intel, Maxis with Penang Development Corporation and Tourism Penang and Penang state government, Telekom Malaysia with Prasarana Malaysia and MBPP.
Among the projects are the deployment of 360-degree UHD 4K live surveillance cameras at the Esplanade and Penang International Airport, 5G live streaming at Penang International Airport, smart facial recognition at Batu Kawan and ultra high speed internet access at Penang Hill.
Other projects include AI-based vision inspection at Bayan Lepas, smart building at Komtar, fixed wireless access at Raja Tun Uda Ferry Terminal and Sultan Abdul Halim Ferry Terminal, smart safety & security at Komtar area and fixed wireless access at smart bus stop at USM.
Zairil said the initiative is in line with the Penang 2030 vision for a Family-focused, Green and Smart State to Inspire the Nation.
"For normal communication, 4G is enough but if you need to do something that is important or require very precise timing and so on, then you need 5G.
"So, when it comes to 5G, the coverage radius is much smaller than 4G. The number of towers for 5G will definitely be more.
"When we want this technology, we have to provide this infrastructure and we have to provide the environment to facilitate this infrastructure. If we don't, then how are we going to go forward?
"We also want to make sure Penang is ready to have 5G by September as the state will be hosting  the World Congress on Information Technology (WCIT) this year."
Citing an example of a 5G demonstration project that was launched in Langkawi recently, Zairil said while medical personnel were using an ultrasound machine to check a patient in an ambulance, doctors in a hospital could see real time.
That, he said, would help the doctors to know the problem and prepare what to do when the patient arrived. Or they could advise the paramedics in the ambulance on what to do.
"This can only be done with a super-fast connectivity. This is one example. There are many examples. This is the purpose of the use case to show that 5G application brings much benefit to the industry, and all sorts of industries.
"As it is, we have very good coverage in Penang but in terms of capacity, it is not so good.
"There is line or coverage almost anywhere you go in Penang. But if many people are there and using the line, the speed is not good. There is not enough capacity and everything slows down.
"Capacity-wise, we are actually lower than many states. But coverage wise, we are better than many states. There is no point to have good coverage but low facility," Zairil added.
On the Penang Connectivity Master Plan, Zairil said it was expensive to fiberize every home and they have to discuss the alternatives.
He said they started a few pilot projects at Minden Heights and in Butterworth where they laid the fibre cables not underground but through the drainage system or aerially.
While that was cost effective, he said they have to do it in a controlled environment, set guidelines and ensure there was no damage to council property.
Among those who attended the briefing on the 5G demonstration projects were a few assemblymen, heads of departments, some staff members of the local government and personal assistants to some assemblymen.
The speakers were Prof Dr Tharek Abdul Rahman of Malaysian Communications and Multimedia Commission (MCMC), Roha Tukimin of the Malaysian Nuclear Agency and Kamarulzaman Elias of Penang State Secretariat.
Also present were Bukit Bendera MP Wong Hon Wai, state Financial Officer Datuk Sarul Bahiyah Abu, Penang MCMC director Rizal Abd Malek and Nur Aishah Md Norodin, head of local government division in Penang State Secretariat office.
Asked by reporters on objections raised by some residents over the construction of telco towers, Nur Aishah said they had set up a committee to look into any appeal.
She said the standard operating procedure for the appeals should be followed and the form could be downloaded from www.penang.gov.my or for any enquiry, contact 04-6505379.
Source: BULETIN MUTIARA (https://www.buletinmutiara.com/rm23mil-worth-of-5g-demonstration-projects-take-off-in-penang/)