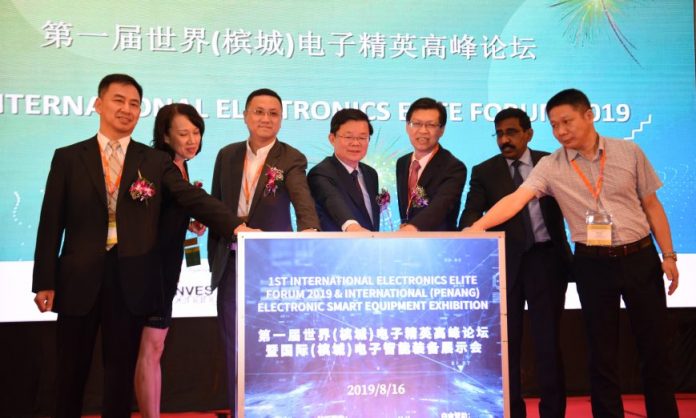 THE manufacturing sector has long been the backbone of the state's economy, contributing 44.8% of Penang's gross domestic product (GDP) as of 2017.
Chief Minister Chow Kon Yeow said Penang is recognised as the Silicon Valley of the East, an important international electronics and semiconductor manufacturing hub in the world.
"With over 300 multinational corporations from the United States, Europe, and around the world, the state government is committed to transform Penang into an international state and a preferred location for global manufacturing investors.
"Penang is currently home to numerous high-tech multinational firms including Intel, AMD, Dell, Osram, Sony and others.
"Shenzhen has mirrored Penang's electronics industry prowess in China, becoming an important electronics manufacturing hub in China," Chow said in his speech before the opening the first International Electronics Elite Forum 2019 at Hotel Equatorial Penang today.
The three-day forum, until Aug 18, was jointly organised by Shenzhen Terminal Electronics Manufacturing Industry Association (TEMA) and investPenang.
Aside from the forum, there was also the International (Penang) Electronic Smart Equipment Exhibition at the hotel.
Chow hoped that the forum could be platform to bring Penang and Shenzhen closer, strengthening the bonds that had been forged.
"Penang has recorded RM8.85 billion of total approved manufacturing investment in Malaysia in the first quarter of this year (2019); achieving top rank among the states in the country. The electrical and electronics (E&E) sector has accounted for about 95% of the RM8.85 billion investment value.
"The E&E sector in Malaysia has grew by 6.4% in 2018 and contributed RM380.8 billion or 39.4% of total merchandise exports in 2018.  Penang has played a significant role in the sector," he added.
The consul-general of the People's Republic of China in Penang Lu Shiwei said the forum was aimed at building a communication platform for the electronics enterprises in China, Malaysia and other countries.
"It is also to enhance understanding, match business opportunities, strengthen cooperation and to achieve win-win development.
"Penang is a centre for economy, trade, science and technology, culture and transportation in the northern region of Malaysia.
"Penang is moving towards Industry 4.0 and identifying E&E, semiconductor, medical equipment, aerospace manufacturing and global business services as key areas of development to attract enterprises to invest and cooperate.
"The Silicon Valley of the East is 'radiating new growth and vitality'.
"Shenzhen is the first special economic zone in China and continues to be at the forefront of China's reform and opening-up policy," he said.
After the opening ceremony, Chow and the other VIPs visited the International (Penang) Electronic Smart Equipment Exhibition.
Also present were Malaysian Investment Development Authority (MIDA) executive director Sivasuriyamoorthy Sundara Raja, investPenang chief executive officer Datuk Loo Lee Lian, and TEMA executive president Wang Yong.
Source: Buletin Mutiara (https://www.buletinmutiara.com/forum-creates-new-cooperation-opportunities-in-the-electronics-industry/)