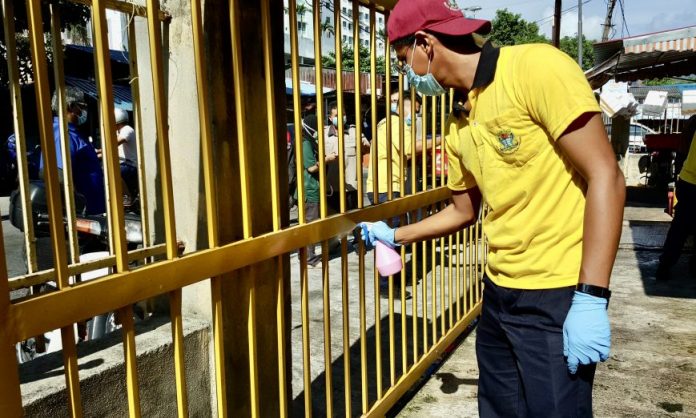 DESPITE knowing that they are exposed to health risks because of Covid-19, the Penang Island City Council (MBPP) cleanliness squad is committed to their job.
The squad was seen dutifully cleaning up Jalan Perak market area during a check conducted by the Buletin Mutiara team today.
According to MBPP senior health assistant officer Khoo Eng Chong, the team assigned at the market consists of five council workers involved in 3D (dirty, dangerous and difficult job) task and two supervisors.
"During this movement order control (MCO), our team is walking the extra mile to keep the environment in the market and also its surroundings clean and safe.
"Every one hour you can see them disinfecting rails (gates, handbars) at the market. Once the market ends its operation in noontime, they will be cleaning up the entire place.
"Now due to the MCO, our members work on rotation basis with five working and another five on leave," said Khoo, who was there at the market to monitor the situation.
"I am glad that I have a disciplined team which starts work at 6.30am till 4.30pm.
"They are dedicated to their job and I appreciate them for the good job that they are doing in helping to curb the outbreak."
He also advised the public to bring recyclable bags and tiffin carriers to the market to help reduce plastics.
Council worker Muhd Saufy Othman, 22, said he and his fellow colleagues are on duty for the sake of the community.
"Although we know that the disease is spreading rapidly, we continue to serve for the well-being and safety of our people.
"We are equipped with mask and hand sanitiser while on duty, and our cleaning up work is done meticulously," said Muhd Saufy.
Meanwhile his colleague, Muhamad Azim Rizuan, 27, thanked the state government for the incentives given to MBPP's frontliners, including the council workers.
"I would like to thank the state government for their concern and for being thoughtful of the frontliners by giving us the one-off payment of RM300.
"I hope that the public is aware of the importance of keeping the surrounding clean, for instance disposing their face masks at the proper place and not littering them on the road," Muhamad Azim said.
Asked how they keep themselves clean and protected, Saufy and Azim said before they return home each time to be with their families, they would change their clothes.
"Once we are home, we will quickly have our shower. The clothes that we wear for work will be washed separately.
"Since we take all the precautionary steps when we are on duty, we believe that will greatly minimise the risk."
Also present at the site were the team's supervisors Goh Hock Seng, Yusno Md Yusoff and Mahathir Marzuki, who is in charge of the dumpsite collection.
Source: BULETIN MUTIARA (https://www.buletinmutiara.com/mbpp-3d-workers-go-the-extra-mile/)