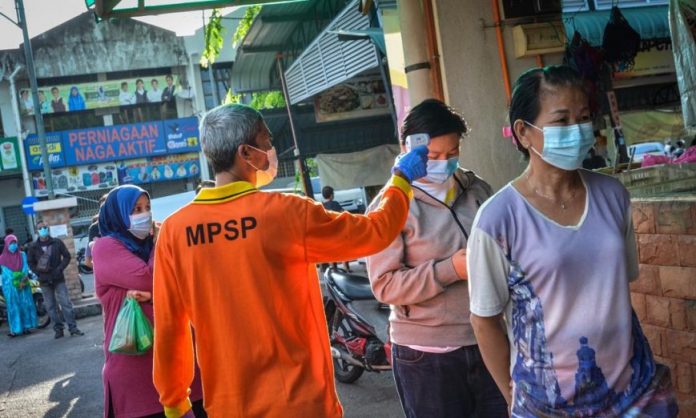 THEY work six days a week despite the unpredictability of the weather condition, get drenched in perspiration at the end of a shift and have to advise some errant market-goers to take preventative measures at marketplaces to curb the spread of Covid-19.
These are just some of the many daily challenges faced by the 'Wira Oren' (Orange Heroes) who were assigned to assist the Seberang Perai City Council (MBSP) enforcement team to monitor every wet market on the mainland during the movement control order (MCO).
Malaysia has entered its 21st day of the MCO, which started on March 18. It has been extended from March 31 to April 14. From Day One, the authorities have been urging the public to stay at home and limit their movements outside.
Apart from the police, army personnel, medical staff, local council enforcement team and many others who carried out their duty diligently during the MCO period, Wira Oren also play a significant role as frontliners in landing a helping hand to combat the spread of the disease.
'Wira Oren' is a respected term for MBSP workers who are tasked to carry out 3D (dirty, dangerous and difficult) jobs. They usually don orange T-shirts in the course of their work.
Buletin Mutiara managed to approach some of these unsung heroes at Taman Sama Gagah in Permatang Pauh wet market and below are their views:
Mohamad Zaki Hashim (49, Wira Oren)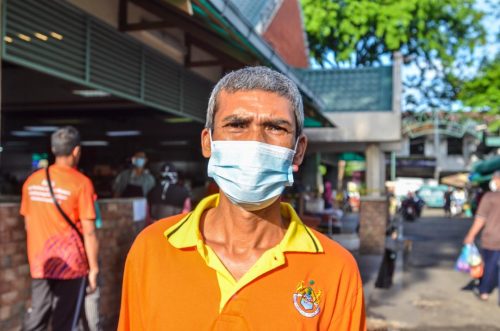 "At first, I was a bit worried when I knew that we would be assigned to assist the MBSP enforcement team at the wet markets due to the lack of staff.
"There were usually a lot of people in the market, so the risk of infection was high if there were no precautionary measures taken.
"But, I know this is part of my responsibility to assist my friends in the enforcement department. So, I carried out the duty with pride.
"Basically, my task here is to conduct a body temperature check on every market-goer before they enter the market.
"And so far, I can see that the MCO compliance among the market-goers is improving each day when compared to the early days of the enforcement.
"Of course, I have encountered a few people who did not want to have their body temperature checked. But after I had explained it nicely to them, they gave their full cooperation."
Ahmad Fuad (35, wira oren)
"One of the challenges that I endured when helping the council enforcement team during the MCO period was when some of the market-goers did not want to queue up before entering the market.
"They asked me to hurry up because they said they had plenty of other things to do.
"I told them nicely that it is not possible because I have to make sure only a small number of shoppers are allowed inside at any one time to prevent overcrowding.
"Luckily, they understood and cooperated.
"The situation at the wet market has also improved a lot nowadays where the MCO compliance is concerned and I hope it will continue.
"At the same time, I also have taken some preventive measures such as wearing a face mask and glove all the time when my duty to safeguard myself from the dangerous disease."
Mazlan Omar (36, wira oren)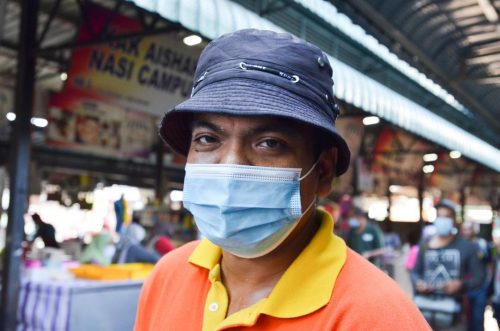 "I have served MBSP for six years already and this year is the most challenging and unforgettable because of the Covid-19 outbreak.
"However, I am committed to carrying out my duty during these trying times.
"Basically, my task here is to advise and remind the shoppers to practise social distancing when doing their marketing and to use the hand sanitiser provided by the MBSP.
"And so far, all of them are following the instructions given.
"I also need to do some cleaning works to make sure the market area is clean and rubbish-free.
"I also join my other colleagues to do some disinfection works at each stall after the market is closed to prevent the spread of the disease.
"Hopefully, this crisis will be over soon and everyone can have their normal life back. The first step towards that is to ensure that the people adhere to the MCO as what we are doing now."
Source: BULETIN MUTIARA (https://www.buletinmutiara.com/hats-off-to-mbsp-wira-oren/)