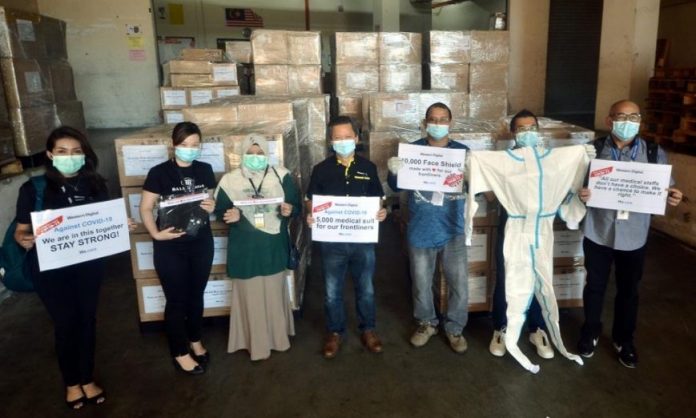 IN a strong show of support, the Penang industry players have so far pledged more than RM1.5 million aid to Covid-19 frontliners.
In less than two weeks after InvestPenang has started a donation drive on March 23, over 30 corporates have pledged and delivered the much-needed items.
They included masks, gloves, face shields, isolation and medical gowns, thermometers, patient monitors, blood pressure monitoring devices, ultrasound system, reverse osmosis blood dialysis machine, laptops and printers and even urgently needed notice boards.
Cumulatively, these in-kind contributions amounted to over RM1.5 million, and more aid is expected to flow in over the coming weeks, InvestPenang said in a statement.
InvestPenang said it began the donation drive five days after the implementation of the movement control order, rallying the state's industry players for contributions of personal protective equipment (PPE) and medical equipment to aid the Covid-19 frontliners at the Penang Hospital and the two local councils – Penang Island City Council and Seberang Perai City Council.
It added that many assisted with sourcing of the short-supply PPEs via their procurement counterparts in China while some corporates and individuals purchased equipment urgently needed for the Covid wards.
Chief Minister Chow Kon Yeow said the generosity and support from the industry on this initiative have been overwhelming and echo the true meaning of good corporate citizen and the power of unity.
"The aid from some of these corporates goes beyond mere donations, as they also contributed their time and effort in sourcing for appropriate suppliers and ensuring quick delivery to the frontliners," Chow said.
"I would like to express our deepest appreciation to all corporates and individuals who have supported this initiative as well as our gratitude to all the frontliners who have shown perseverance and have worked tirelessly in ensuring the safety of our citizens and homeland; we will continue to provide support to them.
"And a big thank you to InvestPenang for initiating this project.
"Together, we will overcome this unprecedented situation. With our versatility, Penang will navigate through these uncertainties and seek out fresh opportunities for growth and development."
Companies that wish to participate in the contribution drive may refer to the link below for the PPE that are needed by Penang Hospital, MBPP and MBSP: shorturl.at/qE367
For more details, please contact the following:
Chen William – email: william@investpenang.gov.my / mobile: 60 16-440 5589
Lee Siu Ming – email: siuming@investpenang.gov.my / mobile: 60 12-468 7959
Source: BULETIN MUTIARA (https://www.buletinmutiara.com/penang-industry-players-contribute-rm1-5mil-worth-of-items-to-help-covid-19-frontliners/)