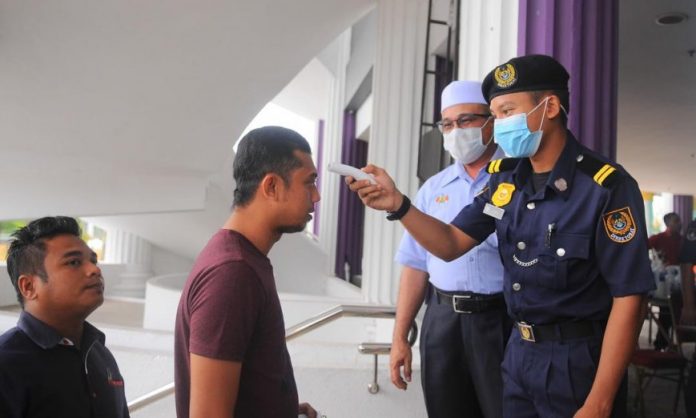 THE Seberang Perai City Council (MBSP) has started screening the body temperature of VIPs, staff and the public who enter its headquarters building in Bandar Perda, Bukit Mertajam.
MPSP mayor Datuk Rozali Mohamud said the screening, which started today, was done to prevent the spread of Covid-19.
"The MBSP auxiliary police unit is conducting the screening process at two main entrances. It is held from 7am to 6pm on working days.
"We will be conducting similar screening in other MBSP premises, beginning tomorrow (March 12).
"Anyone with a fever (above 37.5 degrees Celsius) will be advised to seek medical attention at the nearest clinic or hospital. The person will not be allowed to enter the council premises," he said.
Rozali said that staff who are dealing with customers were provided with face masks and gloves.
Also present at the press conference was MBSP secretary Rosnani Mahmod.
To date, Rozali said that a total of 22,700 face masks were given out to the staff of MBSP.
"We have installed 166 hand sanitisers at every MBSP building and premises to minimise the risk of the outbreak.
"We have also given out 4,546 notices to the management of shopping centres and business owners in Seberang Perai urging them to install hand sanitisers in toilets, information counters, payment counters and others," he added.
He added that all local programmes under the MBSP would be carried out as usual but with strict monitoring and procedures to control the outbreak.
"The public are advised to take care of their personal hygiene to reduce the Covid-19 infection," he said.
Source: BULETIN MUTIARA (https://www.buletinmutiara.com/mbsp-takes-proactive-measures-to-combat-covid-19/)