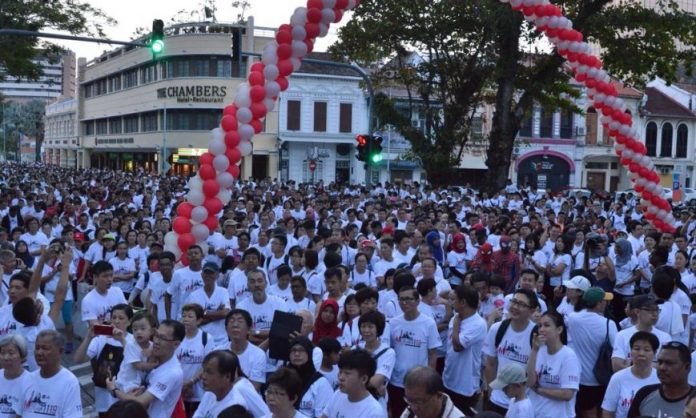 SOME 7,000 early risers started their new year touring George Town city by taking part in the City Walk 2019.
Having to rise early on a public holiday did not wipe the smiles off the faces of the participants, nor dampen their spirits to complete the 5km walk.
Children and even adults were taken by surprise when three friendly neighbourhood Spider-Men made a special appearance at the Esplanade starting line.
Penang Island City Council (MBPP) mayor Datuk Yew Tung Seang said the council had increased the number of registration to 7,000 this year, from the usual 5,000.
"The 7,000 slots were also filled in less than a month. Congratulations to all of you here today!
"The council will always be with the state, and together we will bring Penang to an international level.
"We will work as a team to spearhead Penang towards an intelligent, livable and happy state," he said in his speech today.
Chief Minister Chow Kon Yeow said the City Walk was first held when the state government and the then Penang Municipal Council (MPPP) decided to apply for the city council status for MPPP from the Federal Government.
"We managed to secure the city council status for MPPP with the people's support and MBPP was born.
"This year, we plan to apply to the Housing and Local Government Ministry for a city council status for Seberang Perai Municipal Council (MPSP).
"We feel that MPSP should also be awarded a city council status," Chow said.
Chow also congratulated the MBPP for making the yearly City Walk a success.
Organised by MBPP for the seventh year, the event also saw participants taking part in various activities such as zumba dance and many more.
___________________________________________________________________________________________________________
Source: Buletin Mutiara (https://www.buletinmutiara.com/a-healthy-start-to-a-new-year/?fbclid=IwAR0z_u43cVGqlpDQAUkBPnjnvBJrWe1dlOUIjTGNF6Aif374EC7FChRe0Qg)