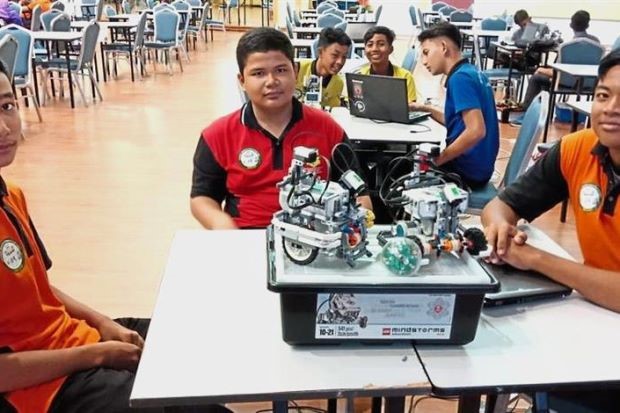 Students showcasing their invention at a STEM fair. Malaysia's STEM initiative is to generate a pipeline of students that will eventually fill the one million new STEM careers that Malaysia will need by 2020.
WHEN people think of pineapples, a sweet and tangy fruit comes to mind.
What many do not realise however is the time-consuming effort taken by pineapple farmers to determine the optimal ripeness of the fruit for harvesting.
Most farmers have to wait around six to 12 months for the pineapple to ripen as the conventional methods of determining the ripeness of a pineapple depend on its colour, size, aroma and how it "sounds" when tapped.
But three students from Universiti Tun Hussein Onn Malaysia in Johor have created a handheld sensing device that can assist pineapple farmers in evaluating optimal levels of ripeness of the fruit for harvesting – without resorting to poking or prodding.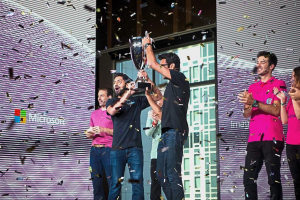 Sweet success: Team Pine from Universiti Tun Hussein Onn Malaysia created a sensing device for farmers that evaluates pineapple ripeness. The technologies that the team employed made them champion at Microsoft's Imagine Cup Asia Pacific Regional Finals.
The team then went on to become the champion at Microsoft's Imagine Cup Asia Pacific Regional Finals.
What made Team Pine's victory even sweeter was that their passion for pineapples goes beyond just helping farmers make a better living; they set out to help Malaysia meet the United Nation's Sustainable Development Goal #12 – responsible consumption.
Malaysia's STEM initiative
Most technical problems can be solved with the application of Science, Technology, Engineering and Mathematics (STEM). Just like how Team Pine drew together technologies from different STEM disciplines, virtually all solutions require the combination of insights and application from the science spectrum.
But most importantly is having the people behind the technologies with the foresight and interest to connect the dots and innovate.
This is the vision of the STEM initiative in Malaysia. The initiative is ultimately tasked with providing a pipeline of students that will eventually fill the one million new STEM careers that Malaysia will need by 2020. These jobs include doctors and technicians as well as careers of the Industrial Revolution 4.0, such as data scientists and programmers.
According to the Malaysia 2018/2019 Salary Guide by Kelly Services & Capita Global, fresh STEM graduates with minimal work experience can expect upwards of RM3,900 as an automation engineer or even RM5,200 as a Java developer.
The initiative looks at more ambitious targets beyond raising a generation of future innovators and technopreneurs; it seeks to create a tide that lifts all boats and inculcate a STEM mindset in every Malaysian student.
The Education Ministry also believes that a core of STEM literacy and the values and approaches from a STEM education are integral in life and career, even outside of STEM.
For instance, the scientific method of generating and validating hypotheses is the foundation of the management consulting practice up to this day.
This goal of embedding STEM knowledge and skills in all students is best reflected in a prominent global movement that Malaysia is part of – STEMforALL. It represents the philosophy that a STEM education is relevant and beneficial to all, regardless of gender, socio-economic status or even ability.
Lack of STEM uptake
Behind all the good intentions of the wonders and future in STEM lies a massive challenge that countries around the world face – globally fewer children are interested in STEM.
In the United States for example, it is estimated that the country will face a shortage of more than 2.2 million STEM workers while the United Kingdom is currently experiencing a 40,000 shortfall in STEM graduates across the country – costing the country's economy an estimated £63bil a year in lost GDP.
In Malaysia, it sees a steady drop in student enrolment in Science streams. The number of Form 5 students studying Science subjects has dropped an average of 6,000 per year since 2012, and this year's enrolment stood at only 167,962 out of 375,794 (44.7%).
Equally worrying is the quality of STEM graduates. More than 48% of Sijil Pelajaran Malaysia (SPM) candidates failed to obtain a Credit grade of C for Additional Mathematics, a prerequisite to enrol in STEM undergraduate courses.
What is even more worrying is that science and technical graduates have the highest unemployment rate among all other graduates in the country at 20.7%.
Stepping up STEM interest
There are many theories when it comes to how interest and quality of students in STEM fields is nurtured.
One of the most compelling methods is to provide STEM experiences to students through extra-curricular activities.
Research published by CBE-Life Sciences Education found that students who are exposed to extracurricular encounters, such as visiting a science fair or watching a scifi movie, are more inclined and interested in STEM.
The research team followed a group of young students that demonstrated clear passion in STEM through joining the Aspiring Scientists Summer Internship Programme (ASSIP) and completing 300 hours of research, despite their early age.
What was even more interesting was that most of the encounters were introduced to the students through parents, relatives or friends. Thus, a combination of being led to an encounter by a trusted source and the inspiration from the encounter itself was enough to ignite a passion and interest in STEM among the students.
This is the direction that our Education Ministry is taking – providing quality STEM experiences to students across the country.
Among the efforts taken by the ministry include expanding STEM related extra-curricular activities such as F1 in Schools (an international STEM competition for students) and STEM+ clubs.
The ministry is also spearheading a STEM mentor-mentee programme in which teachers and students are partnered with STEM professionals and undergraduates to allow for a hands-on experience of the industry.
The ministry has also invested in state and national-level STEM fairs where students collaborate and compete to apply their knowledge on STEM subjects and create innovations.
However, the ministry and schools cannot do this alone. As research indicates, parents and kin play an extremely large role in lighting the first spark of interest among students.
There is a wealth of opportunities for parents to get their children involved, from watching films such as Disney's Big Hero 6 to taking their children for an introductory coding class.
This is why the ministry is piloting a STEM Change Agent Network together with Microsoft Malaysia and organisations such as Petrosains and Kidocode to organise more engagement activities to spread awareness of STEM among Malaysian parents.
"As we work towards future-proofing Malaysian youth with inclusive education and digital skills, we are proud to be partnering PADU (Education Performance and Delivery Unit) and the Education Ministry, as STEM and digital skills are the passport to new opportunities in today's global economy," said Dr Jasmine Begum, director of Legal, Corporate, and Government Affairs for Microsoft Malaysia and New Markets.
Ultimately, it is hoped that all parties can join the movement to ensure that our children are armed with future-proof STEM skills and help usher in Industry 4.0 into our nation.
Who knows? Your child could be the next technopreneur revolutionising the pineapple industry, or more!
For more information on STEM initiatives and resources, go to www.stem.padu.edu.my or www.facebook.com/STEMMalaya.
___________________________________________________________________________________________________________