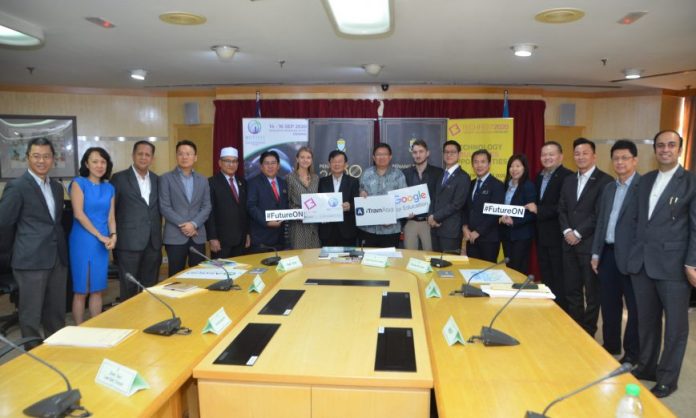 AWARDS will be given to the winners of the ASEAN Smart Urban Development Challenge 2020 during the Penang TECHFEST2020 and World Congress on Information Technology (WCIT2020 Malaysia) in September.
The awards are for cities with the highest levels of performance in policy-making and plans that catalyse and build smart and sustainable estates, precincts and communities.
Smart Cities Network (SCN) chairman Tay Kok-Chin, who is also involved with Smart Cities Council, said they are going to invite cities in Asean to submit their projects and later announce a shortlist of submissions from across Southeast Asian region.
"We'll bring some high-level delegates and some leaders to come and share in Penang during the WCIT2020 Malaysia," Tay said at the fourth Penang TECHFEST2020 steering committee meeting chaired by Chief Minister Chow Kon Yeow at Komtar on March 3.
The Penang TECHFEST2020 will be held from Sept 11 to 20 with the 24th World Congress on Information Technology (WCIT2020 Malaysia) as its main highlight and which is slated to be held from Sept 14 to 16 at SETIA Spice Convention Centre.
Another festival partner, known as the Asian-Oceanian Computing Industry Organisation (ASOCIO), said they would hold their 2020 Smart City Summit during the festival. About 500 delegates, including smart city solution providers from the Asian-Oceania region, are expected to attend the event.
The meeting also heard iTrain, the country's pioneer implementer of sought-after professional educator, would bring together 200 international educators.
They want to showcase proven teaching and learning methodologies in computational thinking as well as the latest technology used to innovate the delivery of education.
Among the others who gave updates in the meeting were WCIT2020 Sdn Bhd chief executive officer Low Ngai Yuen, Pikom chairman Danny Lee, Pikom deputy chairman Sean Seah, ASOCIO chairman David Wong Nan Fay, iTrainAsia executive director Datuk Eric Ku, Chief Minister's special investment adviser Datuk Seri Lee Kah Choon and investPenang chief executive officer Datuk Loo Lee Lian.
Malaysian Communications and Multimedia Commission (MCMC) chief digital officer Gerard Lim and MCMC head of Digital Innovation Department R. Malini, who were unable to attend the meeting, however, took part via Skype.
Also present were state executive councillors Datuk Abdul Halim Hussain, Zairil Khir Johari and Yeoh Soon Hin, State Secretary Datuk Abdul Razak Jaafar, Penang Island City Council mayor Datuk Yeoh Tun Seang, Seberang Perai City Council mayor Datuk Rozali Mohamud and representatives from several state and federal agencies.
Chow, in rounding up the meeting, thanked all attendees for making the meeting a success.
"We've heard many exciting news from this meeting. They brighten our day after a week of gloom. We hope the various partners, collaborators, the main committee and lead agencies, will continue to work," Chow said.
Ten headliners have been identified as the festival's main attractions. They are WCIT2020, 5G Zone, When Heritage, Arts & Culture Meet Tech, the Future of Travel Technology, Esports, Future Cities Connect, Intelligent Mobility and Transport, Yummy Foodtech, Startup Marketplace and Showdown and Drones Use Cases.
The smart cities programme comes under Future Cities Connect while the edutech comes under Startup Marketplace and Showdown.
Updates on Penang TECHFEST2020 can be found on http://techfest.my or WCIT2020 Malaysia at http://wcit2020.org
Source: BULETIN MUTIARA (https://www.buletinmutiara.com/tech-festival-to-see-smart-city-awards/)